design maker
het Damplein
Since 2001 the Dam square has a new pavement. After some futile expensive attempts the entire square is now laid with keitjes (keitje is Dutch for cobble), made from Portugese natural stones. These cobbles are a bit round on top and the joints are very deep, to express the medieval history of the square. Only on the car and bicycle lanes the cobbles are grinded flat and even. However, this national square is now virtually impassable for wheelchairs, less abled, buggies and high heels. Even bicyclists bounce almost from their saddle. The cyclists association as well as the disabled were allowed to give their opinions. Sadly, nothing has been done with it: the bureaucracy of the Dienst Binnenstad stands much too far away from the Dam square user.

After several complaints and actions an accessable strip for wheelchairs and the blind will be put down by the city government before the year 2004.
However . . . feeling is believing.
Het zou goed zijn voor de samenleving als de verantwoordelijke personen van dit Dam-fiasco niet meer betrokken worden bij dergelijke projecten.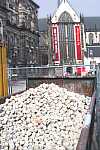 Dam keitjes