the clip
So, you should strongly be warned for pickpocketing, especially in trams. Don't stand near the doors: these are the most liked spots for the pickpocketer, so he can fast disappear. Never leave your possessions for even óne second unattended, especially not when signing-in at hoteldesks or being distracted in restaurants or shoe-stores or at (train)-platforms. Especially when something or someone tries to get your attention you should first hold your (most important) belongings tight.



Use a moneybelt under your clothes for safety storage of your tickets, passports, important phone numbers, locker-tickets and some cashbills. He does not prevent you from getting robbed, but sure is a help in the aftermatch and maybe the rescuer of your trip.
And wear it ALWAYS ! Get so used to it that you'll miss it !
Use it once not and you'll use it more not ! Stupid, but people still don't and getting more in trouble than they should. A fannypack is not now and never will be the right place for those valuables.



A small clip device on a purse which attaches the zipper-closer to a ring on your bag might make the thief looking for an easier target, while it is for yourself after a little practice still easy to open. On the subject of pickpocket-prevention the national television program Deadline, presented by Jan Jongbloed, did sent out a homevideo (of 2 minutes, made by me) on November 1994 of how to use this little clip device.



Don't play a hero: the number of stabbings and beatings by robbers or just for the fun is rising. Every day someone gets mugged at knife- or gunpoint in the inner center of Amsterdam.



For more tips on Pickpockets, Thieves, and Self-Defense take a look at artoftravel.com.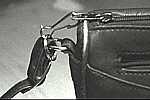 clip on purse