adverts
Advertisement campaigns in Amsterdam.
For years the advertisement campaigns in the innercity of Amsterdam are a nuisance for the Amsterdammers and the visitors. Especially the Damrak, also called the Red Carpet from Central Station to Dam square, is a major eye-sore because of the overwhelming advertisements. The City Center government decided now to do something about it.

Article 8.5 of the APV in 1994 (Algemene Plaatselijke Verordening) is in force in the whole city of Amsterdam and is clear about this subject:
1. Het is verboden, met een bord, doek of met enig ander middel of voorwerp, of met een voertuig of vaartuig, uitsluitend of hoofdzakelijk gebruikt of bestemd voor het maken van reclame, op of aan de weg of het openbaar water reclame te maken.
2. Het in het eerste lid bepaalde geldt niet, indien:
a. artikel 8.4 inzake reclame op onroerende zaken van toepassing is;
b. artikel 10.8 inzake het parkeren van een reclamevoertuig van toepassing is;
c. artikel 8.9, tweede lid, inzake folders, reclamemonsters of ander reclamemateriaal van toepassing is;
d.voor het gebruik van objecten die bij de gemeente in beheer zijn, met de gemeente over het gebruik voor reclame van die objecten een overeenkomst is aangegaan.
3. Burgemeester en Wethouders kunnen van het in eerste lid gestelde verbod ontheffing verlenen.
4. De ontheffing als bedoeld in het derde lid, kan worden geweigerd, indien het beoogde gebruik schade toebrengt aan de weg, gevaar oplevert voor de bruikbaarheid daarvan, dan wel een belemmering kan vormen voor het doelmatig beheer en onderhoud van de weg, of gevaar, hinder, overlast of verontreiniging kan opleveren dan wel afbreuk doet aan het uiterlijk aanzien of het gebruik van de openbare ruimte.

On the other side the city-center council creates extra profits by permitting large adverts on scaffolds, which put temporally in front of buildings to do some maintainence. A part of the profits goes to the city center. A noble striving? Not really, for this money goes not transparently to a specific project, but ends up in the governments general money-spending like paying off "duped entrepreneurs" and the bottomless money and building pit called North-South-line.

Take a look at my photo-page for a number of advertisement campaigns
in the public space of Amsterdam.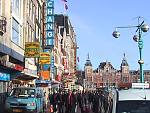 Red Carpet