can it be more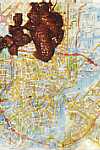 expressive
next
Every neighbourhood council has its own local laws to fight against the dogshit problem. Every neighbourhood council uses its own local methods to get dog-owners their poopscoop paraphernalia. Every neighbourhood council uses its own machines to at least remove the solid faeces from its public places.
Neighbourhood council Zeeburg succeeded even to let this statue of failure lose on its area called KNSM-island after the debacle in the Innercity.
In the Vondelpark there is a workgroup from neighbours busy to keep the park more turd free.
And neighbourhood council Oud-Zuid tries desperately to get the dogshit plague under controle on lawn and gravel of the recent redone Museumplein.



Recently, October 1999, the same alderman Guusje ter Horst said to be searching for other brilliant ideas or there has to be more handhaving (maintaining).
Let's hope we don't get another
Dog in the City festival !
Engaging Guusje is now mayor of the town Nijmegen, saddling Amsterdam with an unsolved dogshit problem and a couple of idiotic dogshit figures spread over the town. In the meantime engaging Guusje has become mayor of Nijmegen and leaves Amsterdam with an unsolved dosshit problem and some idiot dog figures spread out over the city. Guusje started poopie-good with listening to the citizens, but failed pig-headed further on the traject. However, she did a lot of good with the introduction of the thorough Standaard Grachtenprofiel (stylish, without the poles called Amsterdammertjes). The InnercIty of Amsterdam, her residents and visitors should be grateful to her.



The local television station at5 as well as the daily newspaper Het Parool are failing heavily in covering and updating the biggest of the small annoyances. Besides a few short news stories and some letters to the editor the media is as silent as a clogged up toilet bowl. Apparently the newscovering media does not want to touch this undelicious subject. So that, with this subjective way of selecting the news covering in the Amsterdam area, the Amsterdam citizens themselves keep on stepping and sliding into those perpetual doggy faeces.
The Amsterdammer should not only rub the nose of his government but also of the newsmedia in the faeces left behind in virtually all public areas.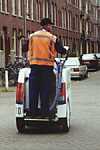 chariot





at Museumplein




this is nó joke
| | | | |
| --- | --- | --- | --- |
| | turd alley | | dogshit shuffle |